The Italian Style and Sustainable Innovations are finally matching in LGH 53 Hybrid.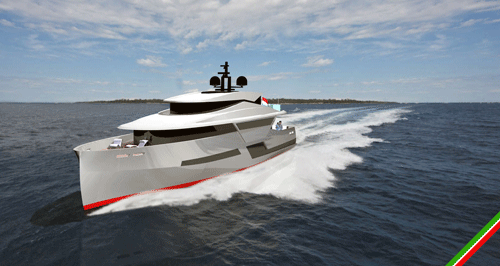 This new 53mt yacht has a Luxury Green Heart – great attention and passion for a sustainable living onboard. The exterior design is classic‐contemporary thanks to its straight lines and simple surfaces.High and safe hull to protect main deck areas , specially the owner s cabin positioned in front of yacht with its private sundeck and Jacuzzi area. The perimetral full high windows of main deck provide exceptional natural light in almost all ambient including main saloon, dining area and owners apartment. A play of light and dark, empty and full, full surfaces and areas of glass, which enhances and highlights a strong
and unique character.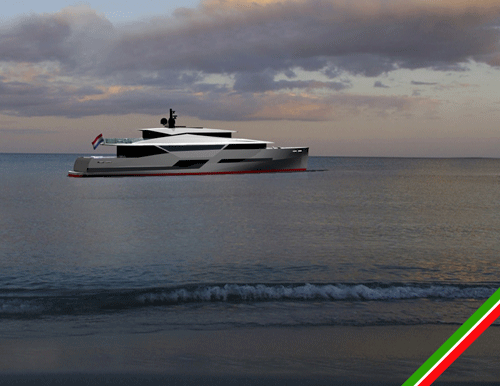 A design made to stand out not necessarily to impress. Equipped with all the comforts of its own category also features a beach club area once opened the large stern
hatch. The wheelhouse is located on the upper deck along with the captains bedroom, characterized by vertical windows for better visibility in all sea and weather conditions, while the structure of the outer body with their bosses avoid the heating of the glass. The upper part of the cabin, thanks to the dark windows and to chromatic detach ,turns out to be as slightly leaning. A yacht with Hybrid Italian propulsion, able to navigate fast and so performance but at the same time capable of maintaining reduced consumption and pollution; to be able to move in electric mode and to be able to forego the generators to meet the needs of electrical consumption. A yacht with three decks but by large open
spaces made accessible and useful to guests, also creating unexpected corners of confidentiality. On the lower deck there are 4 accommodation for guests according to a classical arrangement, with finishing touches that make the taste of natural materials.
The light, natural materials, proportions, simple shapes these are the elements that identify this new yacht and make it slim though almost 53mt long.
Specification :
• Length: 52.00 m
• Beam: 10.10 m
• Draft: 3.15 m
• Max Speed: 18 kn
• Engines: 2 x Cat plus Hybrid
• Range : 4700 Nm
• Guest Beds: 12
For more information Contact us

The informaton shown in this website has no contractual value, the data in this website are to be considered as preliminary and for information only. We reserve the right to change our products , data and info without any notice.