The new Limousine Hybrid yacht tender concept is equipped as a standard with 2 inboard 125 HP engines, coupled with Hybrid propulsion system allowing to cruise in fully zero emission mode or to reduce the consumption of diesel engines. The Hybrid system guarantees low pollution emission and great reduction of vibrations and noise when cruising.
The ceiling roof made of glass is equipped with filter‐film that can reduce visibility up to 90%, providing more privacy to guests and a warmer ambience. Under the back seat in the stern, there is a large space to fit and store guests luggage like in a real Limousine Car. The large side windows of Limousine yacht tender allow easy access to the sitting area and at the same time good view from inside during navigation. There are also protective bulkheads for easy access onboard the boat. Pilot and Copilot have excellent 360 degrees view even when seated, no need to stand up all cruising time.
The interiors of Limousine Hybrid yacht tender are realized all with natural fabrics, selected woods and fine leathers. Simple surfaces and straight lines define the shape of this Luxury Tender with Hybrid Heart. A safe cruise in all weather conditions, reduced pollution and excellent comfort for guests, that's the Limousine designed by Green Yachts with pure Italian style.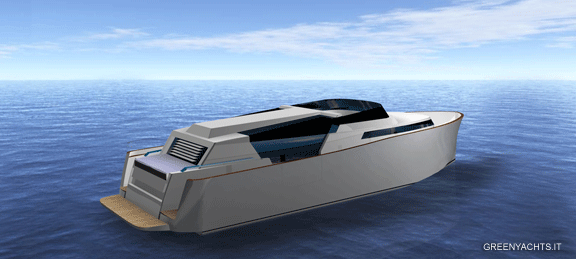 • Length: 9.99 m
• Beam: 3.60 m
• Draft: 0.85 m
• Displacement: 4600 kg
• Endurance with Combustion low emission engine: 40 hours at 11 kn
• Max Speed: 20 kn
• Fuel: 600 lt
• Water: 150 lt
• Persons onboard: 10
• Beds: 2

For more information Contact us



The informaton shown in this website has no contractual value, the data in this website are to be considered as preliminary and for information only. We reserve the right to change our products , data and info without any notice.