Zero emission tender realized in composite material with bio-resins and wood structures. The special propulsion system allow the tender to be easily stored in garages or swimming platforms of yachts.With its electric engine the tender can cruise for over 1 hour at cruising speed and 20 minutes at full speed with 3 person onboard. Additional powerpack will icrease the range of the Tender . Easy access onboard thanks to the increased hull creating a stern underwater step. The protective cover of the dinghy can be solar powered to recharge the powerpack of the tender wile stored. Watertight compartment on bow can be used to store and protect small bags from seawater.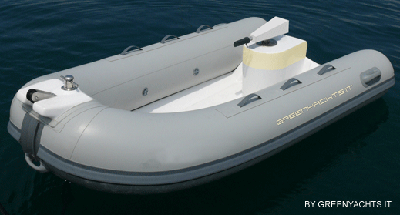 For more information Contact us



The informaton shown in this website has no contractual value, the data in this website are to be considered as preliminary and for information only. We reserve the right to change our products , data and info without any notice.