Hull and sail plan of Sail 40 allows a great potential in terms of speed, thus pushing up the limits of sustainability of the boat; a high speed and a good amount of surfaces, as a matter of fact, means that we can develop a wide range of technology to produce energy while sailing:
• solar panels: coachroof design can handle an array of approx. 10 sq. meters of flexible solar panels, integrated in first stage design, so that they won't looked "stichted up" on the boat; a IACC (america's cup) style high profile mainsail boom will be enriched with further 5 sq.meters of solar panels;
• low resistance towed generator: these are the new version of "old" school towed propeller; nowadays technology give us the chance to have low resistance and highly efficient generator directly on the stern of the boat, positioned slightly inside the rudders; generators can be tilted out of the water if needed; this technology is by now widespread on IMOCA 60 round-the-world racer;
• Wind generator: a pole on the stern allows us to gain another bit of energy, adopting a new-generation low noise 100 cm class windmill
• engine: we adopt a 50 HP-15 kw inboard hybrid engine, mixed electrical and diesel , even here the electric engine may act as a dynamo when sailing, giving us energy to charge the battery packs on board.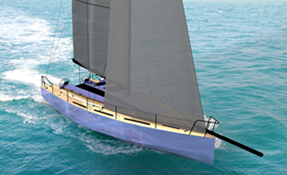 For more information Contact us



The informaton shown in this website has no contractual value, the data in this website are to be considered as preliminary and for information only. We reserve the right to change our products , data and info without any notice.